by Colin Toneys
With so many great options for soft plastic lures that Mister Twister offers, it can seem overwhelming on how to decide which one is the best fit for your situation.
The bait that seems to be right for almost every situation, for me, is the Poc'it Craw. What stands out to me is how versatile this bait can be. I started using this bait with only one presentation in mind: flipping and punching. Which, to no surprise, seems to outfish almost every other bait I have used for flipping and punching. After growing so much confidence in this bait, I began to use it as a trailer on spinnerbaits, chatterbaits, and jigs.
What makes the Poc'it Craw so great is how subtle and lifelike it is, when moving in the water. The claws are are moving and displacing a lot of water, which is what you want when fishing baits such as swim jigs, chatterbaits, spinnerbaits. When I am rigging the Poc'it Craw on these baits, I shorten the bait a little bit by cutting off either 1 or 2 segments of the body.
This doesn't hurt your presentation at all, but what it is doing, is compacting your presentation so when a fish decides to short-strike or just nip at the claws, the fish is much closer to the hook. This increases your hook-up percentage, so you can catch short striking fish, when otherwise, they might just rip the claws off.
My Favorite Poc'it Craw Presentation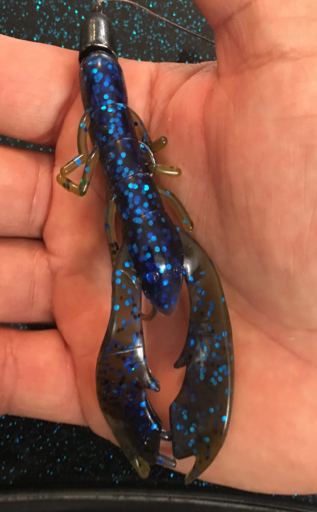 My absolute favorite presentation of this bait is when it's Texas-rigged for flipping and punching. With an assortment of colors the Poc'it Craw has you covered for stained water, clear water, or whatever stage the crawfish are molting at.
We've all had baits that don't always go through or come out of thick, matted vegetation as easily and efficiently as we think they should. The Poc'it Craw's compact and slender body style allows you to go through and come out of thick vegetation with ease.
My Favorite Poc'it Craw Features
Another great feature of this bait, are the Poc'it's that come with the Poc'it Series line-up of baits. When I am Texas-rigging this bait, typically with a 4/0 or 5/0 hook, the hook point will line up perfectly in the Poc'it's. This allows you to have very little plastic between the your hook point and the fishes mouth giving you a much better hook-up percentage.
The Poc'it Craw's other great feature is that it floats. When it goes through the vegetation and hits the bottom the claws are standing up in that crawfish defensive position, which drives the bass crazy. Other craw plastics on the market just lay flat and unrealistic. This feature works great for jig fishing too, whether it's through vegetation or open water, on a casting jig or football head style over ledges, those claws standing up just adds to the fish attracting features of this bait.
So, if you are undecided which Mister Twister bait will be best for you in any of these situations you owe it to yourself to get some Poc'it Craws! They catch lots of fish and they are the real deal!
Anglers can purchase Mister Twister's Poc'it Craws and other quality Mister Twister lures at your favorite tackle dealer or online retailer.