G-Grub® Perfect For Many Freshwater Game Fish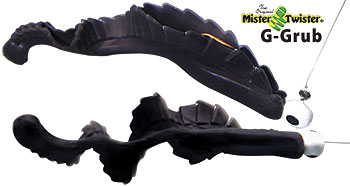 Every fisherman knows the Mister Twister® Curly Tail® Grub is the #1 soft plastic lure of all time. Mister Twister® has taken this classic lure to a new level with the Mister Twister® G-Grub®. It incorporates the Curly Tail® concept in a leech design. Fins from tip to tail produce a perfect leech imitator with a realistic swimming action throughout its entire body.
G-Grubs® come in three sizes, 2-inch, 3-inch and 4-inch, and a wide variety of vivid colors. They are perfect for both walleye and bass. Either size can rigged on a jighead, fished as harness rigs - with our without walking sinkers, or used as spinner bait trailers. Rattle can be added to the tail for added action and attraction. In addition, they can be fished fast or slow. The G-Grub® is an extremely versatile stop-and-go lure. It can also be vertically jigged or cast and retrieved. Any way you fish it, you'll get great swimming action.
For additional information contact:
Josh Schwartz
jschwartz@mistertwister.com
Phone: 715-623-7556